Farmhouse Halloween Decor & Wayfur Halloween Pet Costume Contest
Ello, Folks! I hope that you are having a beautiful day? Today I wanted to share some amazing finds when it comes to farmhouse Halloween Decor and share their amazing Wayfur Halloween Pet Costume Contest. When it comes to Decor Wayfair is always my go-to for inspirations and purchases.
Since I am really invoking the farmhouse decor in my new home and will be sharing tons of inspiration for your home when it comes to farmhouse decor, I wanted to share some super cute and fitting items from Wayfair.
10 Farmhouse Halloween Decor Ideas From Wayfair
Halloween Burlap Banner: This banner is so stinking cute and really can work in a farmhouse perfectly. Bringing Halloween and farmhouse charm together. This is perfect for your front door or even on a wall for your upcoming Halloween party.
Witch Ingredient 3 Piece Decorative Bottle Set– When it comes to farmhouse decor you will always find amazing bottles when it comes to different seasons. I just adore this little Witch Ingredient bottle set. This will give your kitchen or even bathroom a spooky feel.
Halloween Vintage Label 7 Piece Bottle Set– Like I said, vintage-looking bottles really have a place in every farmhouse and if you are looking for a larger set of bottles this piece is perfect. It really has an antique look that will give a sideboard or kitchen the perfect feel this Halloween.
Buffalo Check Pumpkin Pocket Apron– I just LOVE Aprons and having one for each season is a must for me. I adore the buffalo check pattern no matter if it comes to blankets or aprons, it is perfect. This Pumpkin apron is the perfect addition to a small hook in your kitchen or while your brewing up a batch of cookies this Halloween
Happy Halloween Sign Wall Décor – Like bottles, aprons, and banners a beautiful sign for Halloween is a must! I love this cute Happy Halloween sign that would be perfect in an entryway or mudroom. I actually change out my dining room signs for each season so that it is always changing. I simply find items that are about the same size as the other seasonal items.
Perley Happy Halloween Spider Web Embroidered Throw Pillow– I must admit when I first saw this throw pillow I just fell in love. It has such charm and really could fit perfectly into any decor you might have but would fit beautifully into a farmhouse decor typesetting. If you are looking for something a bit more "farmhouseish" I would totally suggest checking out this Burlap Throw Pillow.
Weidman Halloween Stripes Table Runner– Another item that is a must in any farmhouse setting is a great table runner. I try to make my table runners a statement piece and look for things that are a bit bright and fun, to bring a bit more color into your dining room.
Halloween Ghost Spider Bat Fleur De Lis Drying Mat– When it comes to Halloween decorating the smallest little details can really add great fun to your home without going overboard. This cute little drying mat is perfect to bring a touch of Halloween to your kitchen.
Halloween Home Sweet Haunted Home Canvas Sign– I don't know what it is with "Home Sweet Home" signs but they are everywhere. I love the little twist with this sign to make it a bit more Halloween but still oh, so cute.
Trick or Treat Halloween Sign– My last pick is this super cute Trick or Treat Halloween Sign that is perfect for a mantel or even on your porch! I just think it is a simple design making it fit most farmhouse decors very nicely.
Wayfur Halloween Pet Costume Contest
As I mentioned above in the posting Wayfair is hosting an amazing Wayfur Halloween Pet Costume Contest! I think this is such an amazing opportunity to have a bit of fun with your pet! (Plus I love looking at the picture).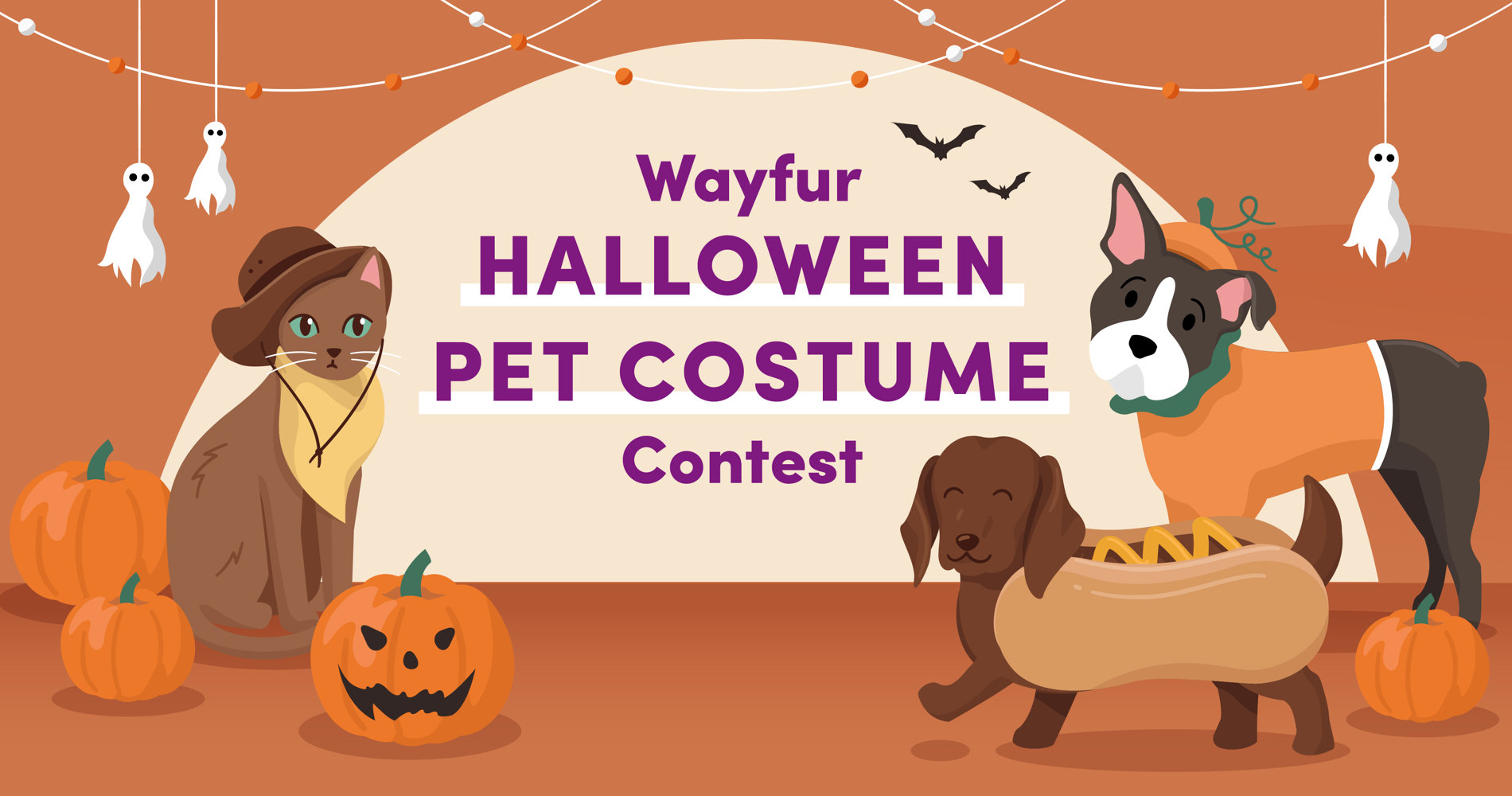 How it works:
Get your pet dressed in their spookiest (or funniest) costume and snap a pic!
Entries will be accepted until 11/1/19.
The lucky winners will be announced on 11/4/19.

First prize: $500 Wayfair gift card
Second prize: $250 Wayfair gift card
Third prize: $100 Wayfair gift card

All entrants will be featured in a photo gallery below!
To enter, send your name (and a link to your blog if you have one), your pet's name, and your photo to[email protected]
Don't forget to attach your photo to the email!
* By entering the competition I agree to the terms and conditions of Wayfair.
Additional contest rules:
Photo must be your own and not modified in any way.
Entry must be submitted via email to be eligible.